Electric Lexus Near Bridgewater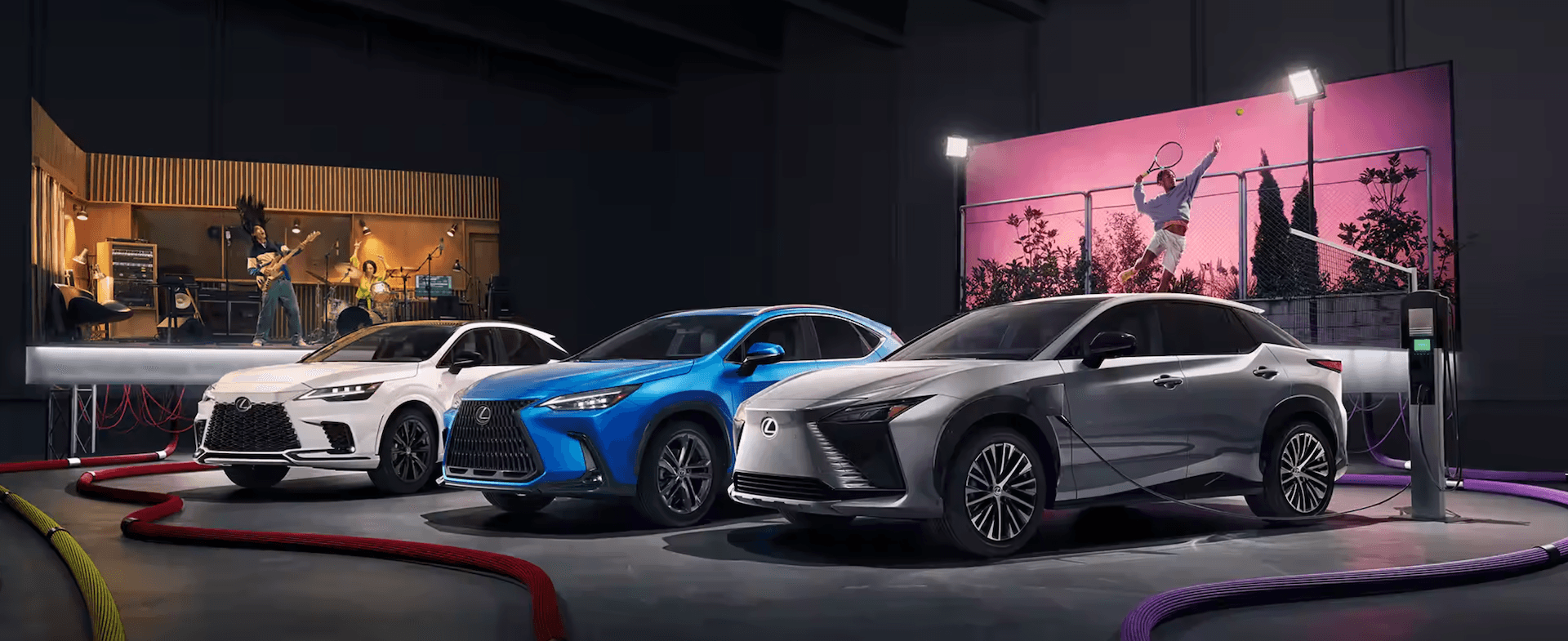 As the automotive industry pivots to an electrified future, Lexus continues to deliver luxury and performance. Our dealership is here to help Bridgewater area shoppers in the market for a new Lexus by going through each electric Lexus available.
Meet the Electric Lexus Lineup
Lexus UXh
The Lexus UXh boasts best-in-class 42 MPG combined EPA estimate (FWD) and a driver-focused cockpit with the brand's most advanced connectivity technology. Along with available electric all-wheel drive, this hybrid is prepared for the unexpected.
Lexus NXh
This hybrid SUV has an EPA-estimated 39 MPG combined, while maintaining the spaciousness you need. Enjoy power-folding heated rear seats and bask in Lexus luxury with the Lexus NXh.
Lexus RXh
The Lexus RXh has been completely redesigned for 2023, offering an uncompromising blend of style, luxury and performance. With refined comfort, nimble handling, and a sleeker design profile, the hybrid model is poised to surprise with its brand new feel.
Lexus RX 500h
The first-ever Lexus RX 500h F Sport takes your driving experience to even greater heights. The output of 336 total-system horsepower and an invigorating DIRECT4 all-wheel drive system form a dynamic duo that helps this hybrid blow expectations out of the water.
Lexus ESh
The Lexus ESh isn't just the most fuel-efficient Lexus sedan ever – it's the most fuel-efficient among all non-plug-in luxury vehicles, period. With a spacious and inviting cabin and class-leading rear legroom, the ES Hybrid delivers an impressive EPA-estimated 44-MPG combined rating.
Lexus LSh
The Lexus LS Hybrid is where efficiency and luxury meet unprecedented convenience. The LSh features a distinctive design and unconventional craftsmanship while raising the bar with available Lexus Teammate. This revolutionary driver-assist system includes Advanced Drive and Advanced Park to promote a smooth and convenient feel.
Lexus LCh
After at least 50 prototypes to find it, the driver's seat in the Lexus LCh features the ideal driving posture. If you're looking for a thrill-focused, performance-driven car, this 10-speed transmission hybrid is the perfect choice for you.
Lexus NXh+
The Lexus NX PHEV is exhilarating and extraordinary, zooming from zero to 60 miles per hour in only 6.0 seconds. As the fastest and most powerful NX, this plug-in hybrid also delivers efficiency with an EPA-estimated driving range of 37 miles.
Lexus RZ
As the first-ever fully electric Lexus, the Lexus RZ is the quintessential combination of sustainability, power and style. The RZ 450e puts on a showstopping performance with DIRECT4 all-wheel drive while treating you to premium comfort inside the cabin.
Test Drive a New Electric Lexus in Bridgewater Today
If you're looking to try out a Lexus electric vehicle, schedule a test drive with us at our Bridgewater dealership. If you have any questions about the electric lineup or any of the vehicles available in our new Lexus inventory, be sure to contact us at Lexus of Bridgewater, proudly serving Somerset, Union and Morris Counties.